Key Largo Attractions
African Queen - Key Largo Holiday Inn, MM 100. The boat seen in the movie with Katherine Hepburn & Humphrey Bogart.
Dolphins Plus - MM100.5 Swim with the Dolphins. Marine mammal facility. Public sessions held twice daily
Florida Keys Wild Bird Rehabilitation Center MM 93.6. Injured birds are rescued & rehabilitated. Free, but donations accepted.
John Pennekamp Coral Reef State Park MM 102.5. Glass bottom boat tours, snorkeling trips, & scuba. Aquarium & public beaches
Key Largo Undersea Park - MM 103.5, The World's only Undersea Hotel. Learn about marine research & underwater archeological artifacts
Key West Attractions
FLORIDA KEYS ECO DISCOVERY CENTER
33 E Quay Rd, Key West, FL 33040
305-292-0311
The Center features more than 6,000 square feet of interactive exhibits, which interpret the resources and management efforts of Florida Keys National Marine Sanctuary, two national parks, and four national wildlife refuges. Mote Marine Laboratory also operates a 2,500 gallon living reef exhibition. Free admission. Closed Sunday & Monday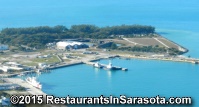 FORT ZACHARY TAYLOR
601 Howard England Way, Key West, FL 33040
305-292-6713
Fort Zachary Taylor Historic State Park is the actual southernmost point in the US that can be visited. The fort was completed in 1866 and played a role in the Spanish American War and the Civil War. There is a popular beach on the south side of the park property.

HARRY S. TRUMAN LITTLE WHITE HOUSE
305-294-9911
111 Front Street, Key West, FL 33040
President Harry Truman spent 175 days in Key West at Quarters A on Truman Naval Station. Today, as Florida's only presidential museum, the Little White House provides a personal glimpse of one of America's greatest presidents.
HEMINGWAY HOME & MUSEUM
305-294-1136
907 Whitehead Street, Key West, FL 33040
This was Ernest Hemingway's home from 1931 to 1939, although he owned it until his death in 1961. It is listed on the National Register of Historic Places. The only residents of the home now are six and seven toed cats that are descendents of Hemingway's pets.
HERITAGE HOUSE MUSEUM
305-296-3573
410 Caroline Street, Key West, FL 33040
Experience true island hospitality during a visit to this splendid Caribbean Colonial House. Original furnishings, rare antiques, and unusual seafaring artifacts. Robert Frost cottage is included in the tour.
KEY WEST AQUARIUM
305-293-7229
201 Front Street #224, Key West, FL 33040
Pet a shark at Key West's first attraction. The aquarium, built in 1934, features seat turtles, sharks, game and tropical fish that are native to the waters of Key West.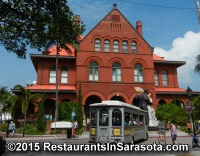 KEY WEST MUSEUM OF ART & HISTORY
305-295-6616
281 Front St., Key West, FL 33040
Set in a red-brick former customs office, this museum explores local art, culture & history.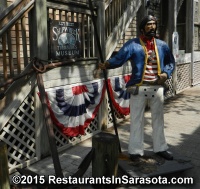 KEY WEST SHIPWRECK MUSEUM
combines actors, films and actual artifacts to tell the story of 400 years of shipwreck salvage in the Florida Keys. The museum is a re-creation of a 19th-century warehouse built by salvor Asa Tift. Artifacts on display are from the 1985 rediscovery of the wrecked vessel Isaac Allerton, which sank in 1856 on the Florida Keys reef. It was one the richest shipwrecks in Key West's history.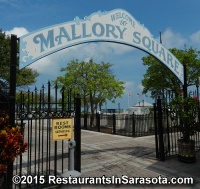 MALLORY SQUARE
400 Wall St, Key West, FL 33040
Mallory Square is the site of the famous Key West "Sunset Celebration." The celebration includes arts and crafts exhibitors, street performers and food carts. The Sunset Celebration begins two hours before sunset. Mallory Square is located on the waterfront adjacent to the cruise ship pier at the north end of Duval St.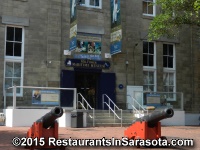 MEL FISHER MARITIME HERITAGE MUSEUM
305-294-2633
200 Greene St, Key West, FL 33040
The museum houses the gold and silver treasures from the legendary wreck of the Nuestra Senora de Atocha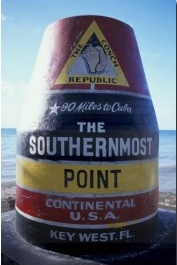 SOUTHERNMOST POINT
The marker at the corner of South St. and Whitehead St. is one of the most popular and most photographed sights in Key West. The "buoy" is actually an old sewer junction that was dug up in the area and found too heavy to move. It was painted and put near the most southern spot in the United States. The actual spot is on the adjacent Truman Annex naval property that can't be visited by the general public.